On the afternoon of May 20, College of Chemistry organized an intriguing Do experiment yourself activity so as to help students of other majors to appreciate the magic of chemical experiment through hands-on practice. 30-odd students majoring in literature, tourism, business, etc. participated in the activity.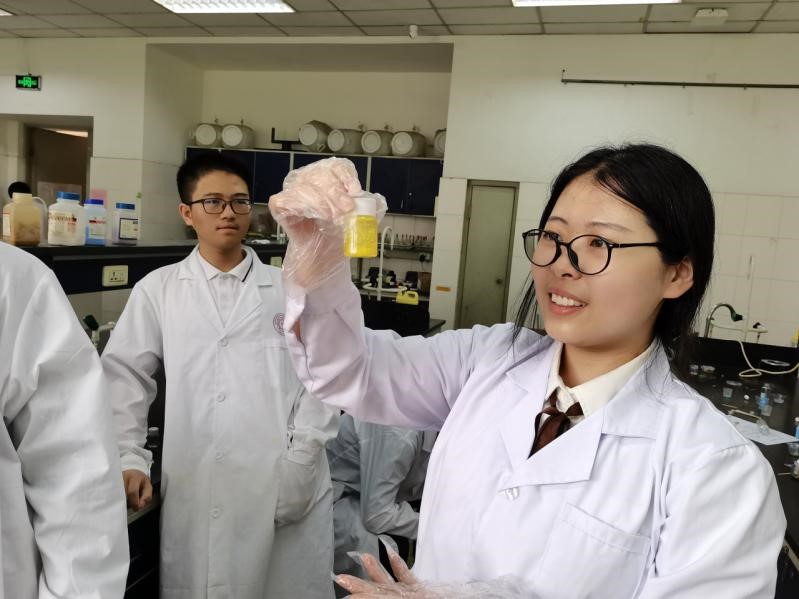 3 experiments were set up in the activity: handmade lipstick, aquatic garden and crystal gel. The handmade lipstick was produced by melting raw materials and shaping it in the mold; the aquatic garden was created by crystallization of silicate, which assumed a beautiful image resembling offshoots of plants; when making crystal gel students mixed plants and prepolymer together to produce a gelatinous substance like amber. After learning the basic operation of chemical instruments under the guidance of stuff, students successfully completed the experiments according to the experimental steps. Students were also invited into the chemistry base of science popularization and watched the golden rain experiment, which deepened their understanding of intriguing chemistry experiments.
Students took photos enthusiastically after the activity. This is my first time doing experiments ever since I graduated from junior middle school. The process is somewhat complicated but the achievement makes me feel the joy of chemistry, said Li Dandan from School of Arts.
It is reported that the Do experiment yourself activity has been organized for many years. With active promotion in the early stages and interesting experiments with continuous innovation, it attracts many students of different majors to participate in every year, so that they can take a step close to chemistry and appreciate its beauty.