On the Nov. 18th, Future Science Prize Ceremony & Future Forum (F2) Science Symposium 2018 ended successfully in Beijing. Mr. Qilin Zhou, academician of Chinese Academy of Sciences and professor of College of Chemistry, Nankai University, won the 2018 Future Science Prize - Physical Science Prize, for his creative contribution to the synthesis of organic molecules, especially new catalysts related to drug molecules.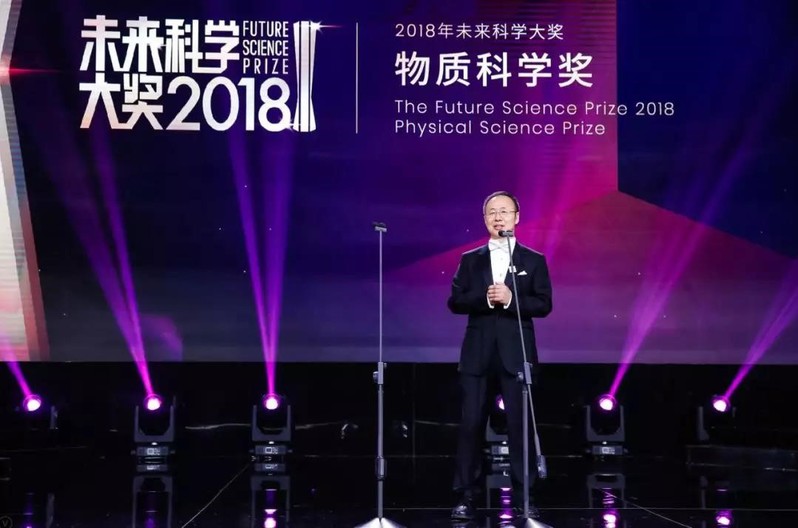 At the awards ceremony, the organizers broadcasted a documentary film produced for the winners by Nature, an international authoritative science magazine. The winners were bestowed by members of the scientific committee of the conference and the donors of the Physical Science Prize.
In the acceptance speech, academician Qilin Zhou said that he would like to thank the donors and the scientific committee for their recognition of his work; express gratitude to his parents, brothers and sisters for their care and concern, and his wife for her selfless contribution so that he can concentrate on research; thank his team for making him happy to have researching cooperation with them. Zhou also said that the rapid development of chemistry in China so far was due to the outstanding achievements made by lots of Chinese chemists, so the award was more a reward for the chemical industry in China. In the future, he will continue to work hard on the road of scientific research and live up to the expectation of motherland; at the same time, as a teacher, he will train more and better successors for the cause of science.
The Future Science Prize, created by the Future Forum in 2016, is China's first world-class folk science grand award, which includes three prizes: Life Science Prize, Physical Science Prize, and Mathematics & Computer Science Prize. The awards ceremony is held annually in Beijing, China, in recognition of scientists who have made significant scientific achievements for all of humanity. Since the birth of Future Science Prize, the world's leading science journal Nature has given great help and support.
The Future Forum (F2) Science Symposium, held in the same period, invited scientists from all over the world to share the cutting-edge achievements of scientific development, explore interdisciplinary and academic innovation, and promote scientific-led industrial applications. The symposium is the only high-end multidisciplinary international scientific conference held in China.
The main agenda of the Future Science Prize Ceremony & Future Forum (F2) Science Symposium 2018 includes twelve symposiums on in-depth discussions of disciplines or fields with the characteristics of frontier, interdisciplinary and applicability, and awards ceremony of the Future Science Prize.
As the purpose of a series of events: converging scientific ideas, inspiring innovative thinking and influencing social fashion, wish more people to devote themselves to science and use the spirit to influence China, the world, and the next generation.