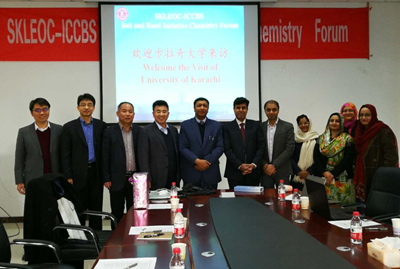 The delegation from the ICCBS of the University of Karachi(Pakistan) visited the State Key Laboratory of Elemento-organic Chemistry on 2nd Jan.

On 3rd Jan, a constructive conversation between the members from delegation and principle members from the Key Lab was held. Academician Jun Chen, Dean of College of Chemistry, attended the meeting and extended warm welcome to the delegation on behalf of the college. Prof. Chunming Cui, director of the Key Lab, introduced Nankai University, College of Chemistry and the Key Lab to the visitors. Prof. Guangxin Liang presided over the seminar, where both sides had a deep discussion on respective representative scientific work and collaborative research as well as joint training for students. Both sides also reached an agreement on the mutual cooperation in organic chemistry, biochemistry and pesticide science and the construction of joint-lab in the next stage. After the seminar, the delegation visited the Key Lab and its large-scale scientific instrumental platform.


On 4th Jan, the delegation visited the Jinnan campus of Nankai University.
The International Center for Chemical and Biological Sciences (ICCBS) is one of premier research establishments in the developing world. Its reputation for scientific research and training extends far beyond the country's borders. ICCBS is a leading institution in the world in the extraction, separation and structural identification for natural products. ICCBS features medical chemistry, pesticide chemistry and biochemistry as well as interdisciplinary studies. The Key Lab will further develop the new international cooperation domains and build more stable cooperation relationships with the University of Karachi based on this seminar. Also, the Key Lab will support the national "the Belt and Road Initiative'' positively to enlarge the self-international influence.