On December 11, 2015, the well-known chemist, Academician of Chinese Academy of Science (CAS), Xiaozeng You hired out as a chair professor of the Shixian Yang Lecture.
At the ceremony for the employment of chemist Xiaozeng You at the Science Complex, the vice-president of Nankai University, Naijia Guan gave him the letter of appointment and the bronze statue of Professor Shixian Yang, and wore the emblem of Nankai University for him. Academician of CAS, the dean of the College of Chemistry, Qilin Zhou introduced the chemist Xiaozeng You to the teachers and students attending the ceremony.
As the president of Nankai University, Ke Gong put it, the achievements of Nankai were inextricably interwoven with the contribution of the great chemist, Shixian Yang. Furthermore, the recruitment of the chemist Xiaozeng You surely would further promote the progress of such important projects as talent training, scientific research, and the construction of chemical science in Nankai University.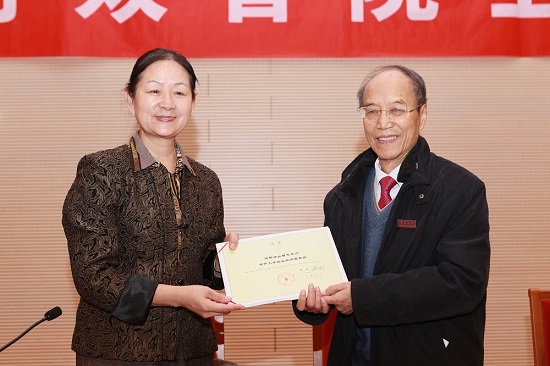 The vice-president, Naijia Guan said in her address, "the Shixian Yang Lecture aims to carry forward the will of the great chemist Shixian Yang to recruit excellent teachers and to develop scholars with ability, which undoubtedly will pave the way for scientific research to serve to boosting the advance of the College of Chemistry and the national economic construction. We are looking forward to building a brighter future of the College of Chemistry together with Xiaozeng You."
At the end of the event, Xiaozeng You showed his respect to Professor Shixian Yang, and expressed his willing to take the position. Later, he gave a lecture titled 'The solar cell and chemistry-light, electricity and heat integrated hybrid material'.
There's no doubt that the introducing of talent like Xiaozeng You will help enhance the scientific research strength of the College of Chemistry. And that's what we're waiting to see.