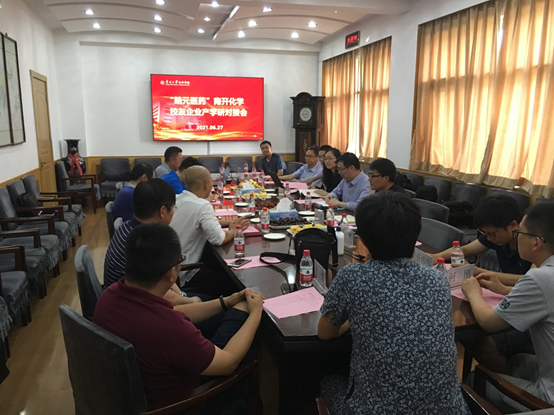 On June 27th, the conference between Haoyuan Chemexpress and College of Chemistry, Nankai University was held for the integration of enterprise and university research. Baofu Zheng, chairman of Shanghai Haoyuan Chemexpress Co., Ltd. as well as graduate of 1997 of College of Chemistry, Nankai University, and Wei Wang, deputy secretary of the college party committee, attended the conference together with the vice dean Baiquan Wang and Jingcheng Ji. Other attendees included leaders of relevant departments of Haoyuan Chemexpress and teaching staff of relevant researching field.

Baiquan Wang welcomed Baofu Zheng and his party at first, and introduced the condition of College of Chemistry. He said that the college has always attached great importance to the industry-university-research cooperation. It encouraged communication between the faculty and enterprise and endeavored to grasp first-hand information about market demand, so that the research achievement could create more value to better serve the country and society. The teachers have achieved fruitful results in their own fields and have great potential for cooperation with enterprises. With its robust faculty and comprehensive research, Nankai Chemistry was sure to provide strong technical support to the alumni enterprise. He believed that the college and enterprise could emit creative sparkles and reach the consensus through the conference, and was expecting regular exchange activities with Haoyuan Chemexpress. He welcomed more alumni to visit Nankai Chemistry and make suggestions for the discipline construction on the occasion of the 100th anniversary of the establishment of the discipline of Chemistry in Nankai University.
Baofu Zheng thanked for the warm reception of College of Chemistry, and introduced the development history, research direction and enterprise culture of Haoyuan Chemexpress. He said that as a college with profound accumulation, fruitful research achievement and multitude of talents, Nankai Chemistry had helped him lay a solid foundation for his own career development when he had ever studied here. He hoped to discover more cooperation opportunities through the communication, and form a favorable cooperation system to aid the development of the enterprise with the scientific research advantage of Alma mater. At the same time, the industry platform of the enterprise would provide market data support and counsel for the scientific research and achievement transformation, so as to promote the integration of enterprise and university research, and further contribute a strength for the development of Nankai Chemistry.
Subsequently, college participants elaborated on multiple aspects such as the research direction of each group, the progress of industry-university-research, supportable projects, achievements to be transformed, etc. Participants of Haoyuan Chemexpress made in-depth discussion with teachers, and put forward reasonable suggestions for the industrialization of the research subject.
It is reported that in order to welcome the 100th anniversary of the establishment of the chemistry discipline of Nankai University, College of Chemistry leveraged the advantageous characteristics of the discipline, kept close contact and carried out industry-university-research exchanges with alumni enterprises. It endeavors to empower the alumni enterprises with research achievements and simultaneously light the course of researching with enterprise requirements, so as to achieve mutual development. Graduates are welcome to return to Nankai Chemistry to carry out industry-university-research communication where cooperation opportunities abound and together contribute to the development of chemistry.
Shanghai Haoyuan Chemexpress Co., Ltd. is established in the famous Zhangjiang Biopharmaceutical ********* Campus in Shanghai, China in 2006. It focuses on supplying products and services to clients in the field of small molecule drug discovery. In the past one and a half decades, its molecular building blocks, chemical and biochemical reagents, reference compounds, and custom synthesis services have helped hundreds of academicians and pharmaceutical enterprises to move forward with their drug discovery projects along different pipelines. Based on its strong process chemistry R&D platform, it has served global pharmaceutical enterprises and research institutions with a large scale pharmaceutical intermediate and APIs accompanied by technical services.