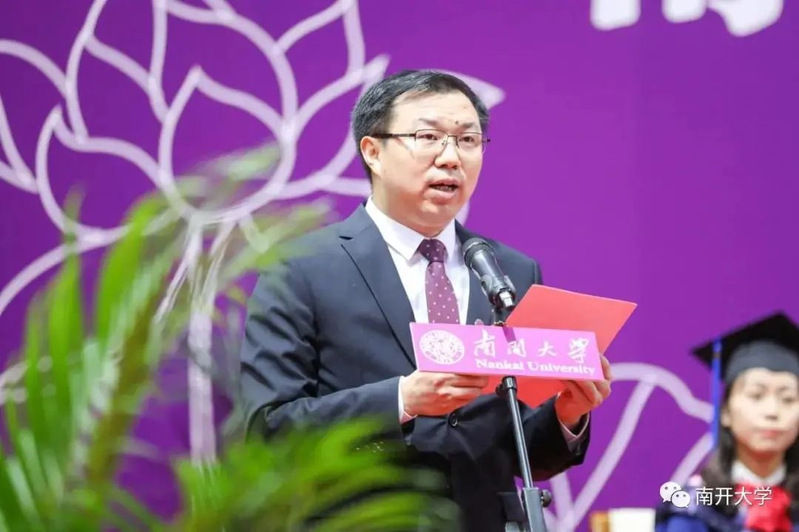 Esteemed leaders, respect teachers, dear students:
Good morning!

I am Baofu Zheng, a Chemistry graduate in 2001. Here in my alma mater, we held 2021 Graduation Ceremony and Degree Awarding Ceremony for Undergraduates and Postgraduates. With tassels turned to left, another group of students have finished their studies successfully, about to start a fresh life stage. The year 2021 is the centennial of Department of Chemistry, Nankai University, and it's been 20 years since my departure. I am so honored to come back to my beloved campus and speak as the alumni representative. Here, on behalf of former graduates, I would like to extend my heartfelt congratulations to the young generation, and my deepest respect to the committed and devoted leaders and teachers.
Time flies by, the days studying and living here stay vivid in my mind. It's fortunate joining Nankai in our best age, systematically drawing her spirit "Dedication to public interests, acquisition of all-round capability, and aspiration for progress with each passing day". Her spirit lives in her motto, history, school anthem, and her Behavior Motto; in her buildings, statues, roads; in your steady and friendly learning style; in teachers' wise guidance; and especially in academicians, hale and hearty, upright and humble, whom we are greatly proud of. All these together create an unseen " Nankai forces field", under which we receive inculcation from her spirit "Dedication to Public Interests, Acquisition of All-round Capability". College time, the best and most precious experience in my life. Nankai's character and spirit implicitly shape our values, just like spring breeze. As the character put down roots in values, our every action will be branded with it. I always demand myself with "passionate love for the country and the community" and "capacity to serve for the society". My conduct code to be "Patriotism, Dedication, Innovation, Gregariousness".
After graduation in 2001, I studied in the University of Hong Kong for PhD. Year 2006 was the great opportune for China's pharmaceutical industry development. After receiving doctorate, I decided to found Shanghai Haoyuan Chemexpress Co., Ltd., dedicating all my knowledge to the work, for a stronger national biomedical industry. Nankai Spirit lit my startup way as a lighthouse, leading me to humanism and self-innovation. I also infuse Nankai Spirit into Chemexpress culture, pass it to Chemexpress employees, so it can benefit more people. Starting business sounds cool, but in fact tough. Our aims of biomedical innovation have never changed, thanks to Nankai's steadfast character that keeps encouraging me to stay firm with my dream. Also, we people from Nankai are more likely to become stable and then reach far due to the quality of persistence. Thus, I'd like to share with you the power of persistence and growth. When departs from this Ivory Tower, you may proceed your studies, some of you may enter society and take on new roles. Stand by your choice and stick to your first intention, stay firm, keep growing, you will definitely obtain exclusive highlights.
"Dedication to Public Interests, Acquisition of All-round Capability", the unique DNA of Nankai synthesizes our Nankai character and team-play spirit. Along in my startup, this special DNA directed me to many schoolmates who served as the backbone of all walks of life. We come from here and share the same spirit, we cherish one another and accomplish our dreams. It's fortune and fertilizer Nankai prepares for us. That's what I want to tell you, go chase your dream. Even though life journey can't be smooth all the time, you are never alone; wherever you are, there will be NKUers cheering for you!
Dear juniors, now you are the sight-taking "stars", the pride of Nankai; tomorrow you will step on to your new trip. I will bless and bolster you with two lyrics in our school anthem. The first is "at the hurry, at a gallop". It's the era of China's speeding development that you live in, which is the best time. Keep Nankai Spirits, face challenges, seize opportunities, strive for your goals along with this era. I wish you success.
Another one to be "upright, true, brave and kind". On the road of life, there are always difficulties and confusion, always winding rugged. At that time please recall your intention, fear not, go on. Even when you make your way, self-reflection is necessary as well. Extend your view, do good deeds, and be decent. With Nankai Spirit set as the core, you will live your happy life.
Year 2021 is the centennial of the Founding of the Communist Party of China, we now meet the historic intersection of two "a hundred years", which is the new startpoint for your life. May you hold Nankai Spirits, remember will fight today, keep visionary faith, explore your own future!
Near the Bo Hai Sea, Along the Hai He River, Nankai Spirits soar high.
The journey of life, The end of the world, Nankai Spirits stand still.
Thank you, Thank Nankai!